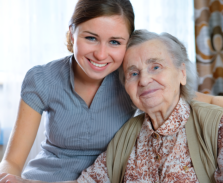 "When I graduated from Medical School, my uncle gave me a black bag as a graduation present. I remember being so excited and feeling like a doctor when I received that bag. I still feel that way today!"
– Nichelle R. Hampton, DO
Blackbag Home Physician Service LLC was founded by Dr. Hampton who has been providing care for patients in their homes for over 10 years. Our motto, "Doing Home Visits the Old-Fashioned Way!" comes from our desire to provide compassionate and comprehensive medical care for patients in their homes, the way older relatives and friends' doctors did years ago.
Dr. Hampton is Board Certified in Internal Medicine, Fellowship Trained in Geriatric Medicine and has had Specialty Training in Hospice and Palliative Care Medicine.
Dr. Hampton's Philosophy of Care:
"I strive for trust, open communication and long-lasting relationships
with my patients and their families.
I value a team approach in the care of my patients.
I work closely with the patients, families, caregivers,
and other providers to maintain / improve the health,
function, and quality of life of my patients."